Domaine Brusset - "Les Hauts de Montmirail" - Gigondas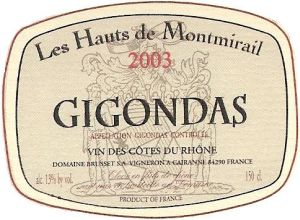 An Atherton Wine Imports Direct Import
Domaine Brusset was founded in 1947 by Andre Brusset. His grandson Laurent now runs the domaine. They combine traditional methods with techniques that are rarely used in the region, such as ageing in new oak.
The domaine's top vineyard, Les Hauts de Montmirail, is situated below the picturesque "Dentelles de Montmirail" ridge in Gigondas. The soil is poor and rocky and produces modest yields of very concentrated and aromatic grapes. The wine earns a steady stream of praise from the wine press, including three recent appearances on Wine Spectator's Annual Top 100 List.
Robert Parker says that Domaine Brusset "continues to produce one of the appellation's most extraordinary wines" (Wine Buyer's Guide, 6th Edition).
Quick Facts:
Grape Varieties: 55% Grenache, 25% Mourvèdre, 20% Syrah
Soil: Small Terraces of rock and clay. Located below the great Jurassic calcareous ridge of the "Dentelles de Montmirail".
Yield: 25 hl / ha.
Harvest: Hand-picked and strictly selected according to a variety of ripeness checks.
Vinification: Crushing, destalking, cold prefermentation. Separate fermentation for each grape variety during 21 days, "pigeage", temperature control.
Ageing: 100% in french oak-casks (part of new) according to the vintage.
Official website: www.domainebrusset.fr.