Tertre Roteboeuf - St. Emilion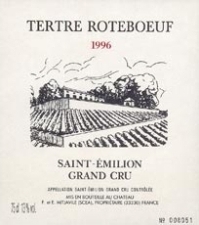 An Atherton Wine Imports Exclusive on the West Coast
AWI was the first West Coast importer to realize that Tertre Rôteboeuf was destined to be a star. We have been distributing Tertre, along with proprietor François Mitjavile's Roc de Cambes estate, since the 1985 vintage.
Tertre Rôteboeuf is now one of the top wines from St. Emilion every year and starting with the 2004 vintage we are the exclusive importer for the United States. Check out what Robert Parker has to say:
"Since this estate burst onto the scene in the mid-1980's, the talent and extraordinary winemaking skills of Francois Mitjavile have produced one of Bordeaux's most luxurious, sensual, and sexy wines. . . . It has an inimitable style of its own and has not, up to now, been duplicated. . . . Irrefutably one of Bordeaux's superstars" (Bordeaux 4th Ed.)
Clive Coates is also a fan. "In little more than a decade, 45 year-old François Mitjavile has turned this obscure five hectare grand cru, not even a grand cru classé, into one of the appellation's most sought-after superstars." (Grands Vins 1995)
Quick Facts:
Name: Derived from the oxen that are used to cultivate the soil. Tertre Rôteboeuf translates to "the hill of the belching beef."
Grapes: Merlot (approx. 85%) and Cabernet Franc (approx. 15%)
Vineyard: Only 14.7 acres (Cheval Blanc has 91) on a steep hill. Average age of the vines is 40 years.
Yields: Average of only 33 hectoliters per hectare – less than Cheval Blanc and Ausone.
Elevage: Three to four week fermentation and maceration, eighteen to twenty-two months in new oak barrels. Fining/Filtration depending upon the vintage.
Plateau of maturity: Within 3-15 years of the vintage.
Highlighted Vintages:
2005 – WS 92-94 "This is a fascinating and cerebral wine that wows you with its beauty. This could easily move up to a classic rating."
2004 – IWC 89-91
2003 – IWC 91
2001 – WA 90, Decanter 5 Stars
2000 – WA 98 "deja vu of the 1990 Petrus at age two!"
1995 – WA 95 "exhibits a Le Pin-like exotic richness and opulence"
1990 – WA 98 points "The 1990 has been so stunning the last several times I tasted it, that it is inching its way up the scoring ladder. In fact, I am close to running out of points."