Roc de Cambes - Côtes de Bourg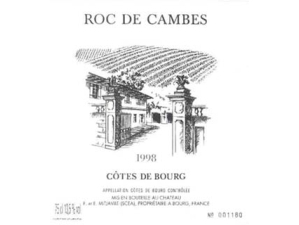 An Atherton Wine Imports Exclusive on the West Coast
AWI was the first West Coast importer to realize the outstanding value of Roc de Cambes. We have been distributing Roc de Cambes, along with proprietor François Mitjavile's Tertre Rôteboeuf estate, since the mid-1980s. Starting with the 2004 vintage we are the exclusive importer for the United States.
François Mitjavile is a fanatic when it comes to quality in the vineyard and in the cellar. He produces one of the finest wines from St. Emilion and is equally dedicated to this tiny property, which he purchased in 1988. He made waves in the Bourg community from the very first vintage. His vineyard manager was ridiculed in local cafes because everyone else had finished picking their grapes before they had even started at Roc de Cambes.
By picking only when he knows the grapes are ready and adopting cellar practices that allow the character of the vineyard to show its best, Mitjavile has proven that wines from this unheralded appellation can rival classified growths. His efforts have led Robert Parker to declare Roc de Cambes the "undisputed leader from the Cotes de Bourg appellation" (WA 122, April 1999)
Quick Facts:
Grapes: Merlot (approx. 65%), Cabernet Sauvignon (approx. 25%), Cabernet Franc (approx. 15%), Malbec (approx. 5%).
Vineyard: 23 acres.
Production: 3000 cases.
Plateau of maturity: Within 3-10 years of the vintage.
Highlighted Vintages:
2005 – WS 89-91 "Gorgeous."
2001 - WA 90 A sensational sleeper of the vintage, this superstar of the Cotes de Bourg appellation . . . boasts a dense purple color as well as a big, sweet, seductive bouquet of melted chocolate, licorice, smoke, and jammy black cherry fruit. Flashy, seductive, and medium-bodied, with loads of ripeness in addition to a plush texture, it should be drunk over the next 5-6 years, although it may last longer.
2000 - WA 90 "Roc de Cambes' finest effort since the 1990. . . . a sleeper of the vintage"
1998 - WA 91 "sleeper . . . impossible to resist"
1995 - WA 90 "Amazingly deep and rich"
1990 - WA 90 "This delicious offering is proof that wines from lowly regarded appellations can be just as delicious as those that possess higher pedigrees and cost 5-6 times as much."
1989 - WA 89 "Both the 1989 and 1990 are at their peak of maturity, but with its greater length and riper fruit, the 1990 will outlive the 1989 by 3-5 years. Readers who bought these wines early should be pleased that their $16-$18 investments now taste like wines costing $50-$100"